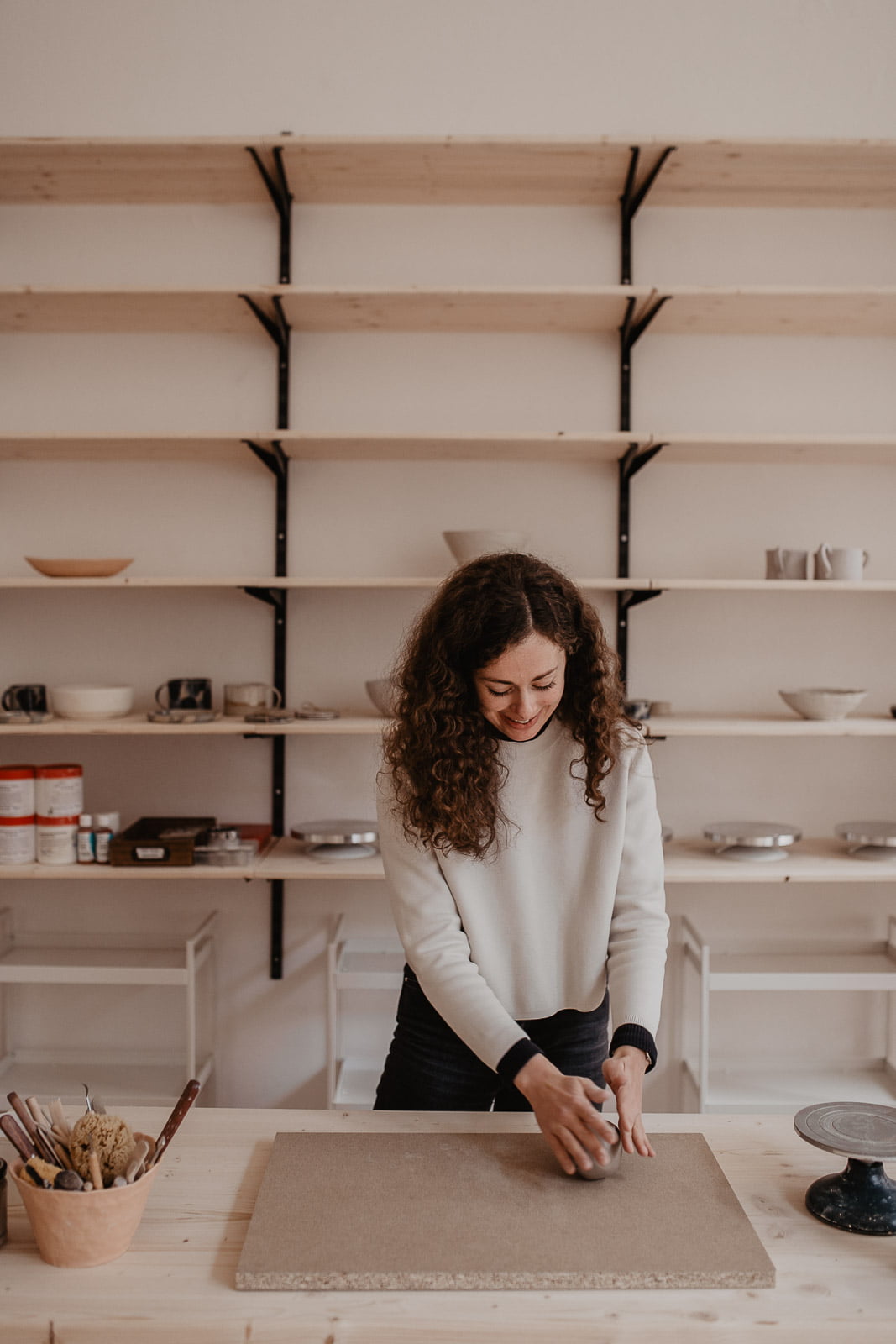 Private Ceramic Handbuilding Coaching
Since discovering my passion for handbuilt ceramics in 2018, I have been through all the phases of learning and teething problems and come out the other side with a huge knowledge and passion for the craft.

I have taught 100's of students over the years in group settings and am now offering my expertise in a bespoke manner.

I believe the lessons I have learned will be of huge benefit for mid-advanced beginners to advanced-intermediate potters who want to raise the bar of their work or need a little extra support to reach the next level.

See below for the ways I could help and also some FAQs.
Possible topics of consultation
Slab Building

Making really beautiful mugs
How to minimise warping
Tips to avoid cracks
How to fix handles
Advice on creating a succinct series
Methods to manipulate and create alternative forms from slabs
Tips to elevate your pieces from good to outstanding

Pinching

How to refine pinch pots
How to make a series
Advice for pinching big
Tips for pinching thin
How to avoid slumping 
Creating a balanced form and weight
Reducing weight in the base to distribute clay evenly
How to add a foot

Coiling

How to coil and achieve a refined outcome
How to coil to a desired shape or size
How to coil vessels inwards (and outwards)
How to blend coils and achieve a smooth surface
How to build with coils to achieve the form of your wish (organic or symmetrical)

Decoration & Special Techniques

Burnishing your pinch or coiled piece
How to apply inlay technique cleanly
Creating a showstopping piece using sgraffito
Using oxides
Coloured clay & making patterns

Glazing

Best practices for application to achieve successful results
How to avoid drips or running
Input on making own glazes & what to look for for a chemically stable recipe

Logistics of a Ceramics Studio

Advise on reclaiming clay / glaze waste
How to load a kiln economically
Health & Safety
Regular price

From $157.00 USD

Regular price

Sale price

From $157.00 USD

Unit price

per
FAQs
Who is the private mentoring suitable for?

My mentoring is suitable for anyone who has already began their pottery journey and needs help in a specific area.

-

I tend to work with potters in the mid/advanced beginners to advanced intermediate spectrum. If you are unsure, please get in touch!

What can you support me with?

Please see the extensive list above for some ideas. If you don't see the topic you are looking for, it is still likely I can support you.

-

I also enjoy trouble shooting - so if you have a persistant problem which arises, please don't hesitate to reach out and we can overcome the difficulty together.

What are the benefits?

1:1 tailored session/s based upon your area of choice
Personalised demonstrations and granular tips each step of the way.
Sympathetic encouragement, support and motivation
Working in a light & airy boutique ceramic studio outside of its' opening hours, so we have the space to ourselves.

What does it cost?

I offer a range of packages starting from 140,00€.

Please be aware depending on your area of consultation, it may be necessary to book 2 x sessions.

1 x 90 minute session: 140,00€
2 x 90 minute sessions: 260,00€
3 x 90 minute sessions: 360,00€
4 x 90 minute sessions: 440,00€

Where does the mentoring take place?

The mentoring will take place in my studio in Berlin Kreuzberg:

-

Kleistone Studio

Katzbachstr. 29

10965 Berlin

Germany

-

Mentorships can be given in either english or german languages.

How do I book or find out if this is the right step for me?

To book, please click on the product above and select how many sessions you would like. I will then be in touch within 48 hours to arrange the appointment/s and to send you a questionnaire to complete in order for me to find out how best I can support you.

-

If you have any questions prior to booking, please contact me.